When we watch TV, we often want to know when cable TV was invented. In cable TV, any network or channel uses a cable to transmit television programs. This type of television uses radio signals via coaxial or fiber-optic cables. We can see that cable TV faces significant competition from broadcast and satellite TV. Cable television was invented to address the issues faced by customers in remote areas, who found it difficult to access TV programming or received poor reception through antenna radio waves. For these remote customers, cable TV has played a vital role in providing better TV programming services.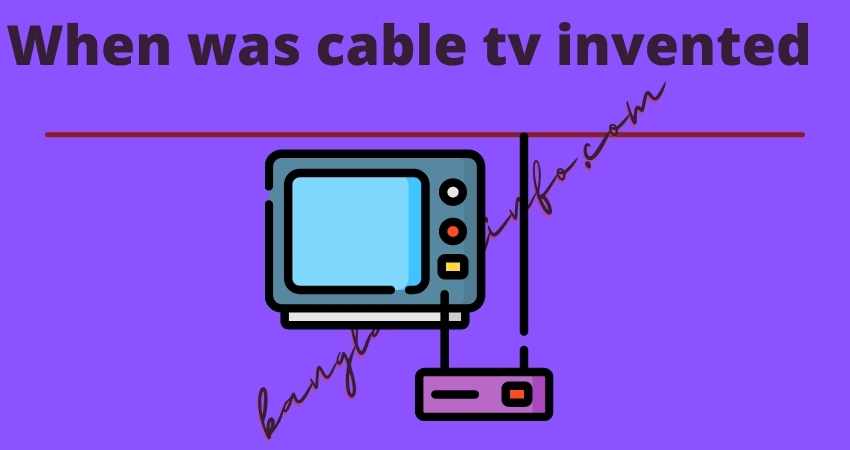 Working principle of cable tv
After learning when cable TV was invented, we should understand the working principle of cable TV. Cable TV is different from broadcast television. Broadcast television sends TV signals through the air, and consumers receive these signals with an antenna attached to their TV. In contrast, cable TV uses coaxial or fiber-optic cables, relying on utility power to deliver content to consumers.
Cable tv started journey
Cable TV became available in the United States in 1948 and gained popularity in American homes by 1989. Initially, cable TV was developed in Pennsylvania to solve the problems of consumers who could not receive radio waves due to obstructions from mountains and buildings. John Watson was the man who first invented cable TV. Following Watson's invention, many other individuals made significant contributions to the cable industry. Robert Tarlton was the pioneer who established the first commercial cable TV company in 1950. After his successful venture, the popularity and demand for cable TV increased throughout the country.
Overall History of the cable tv
When was cable TV invented? Cable TV first emerged in the United States in 1948. It was designed to improve the reception of television signals in areas where geography, such as mountains or hills, interfered. John Walson was the pioneer who created the first cable TV system. Between 1948 and 1950, small companies began establishing cable TV networks in Pennsylvania. CATV (Community Antenna Television) systems were set up in remote areas in 1948. In 1949, the FCC (Federal Communications Commission) attempted to slow the rapid expansion of cable services by imposing a freeze on new licenses.
By the late 1950s, cable operators were retransmitting broadcast signals from stations over a hundred miles away. The NCTA (National Cable Television Association) was formally organized in 1952. By 1953, CATV systems were utilizing microwave relay signals, and in 1957, the master antenna concept was integrated into CATV systems. By 1962, there were 800 cable systems in operation. Throughout the 1960s, well-known cable companies began to invest heavily in the infrastructure.
In 1972, the cable television industry launched the first paid cable channel. That same year, some networks started using satellite signals to offer a wider array of programs, leading to a surge in cable TV users. By 1979, sixteen million households had cable subscriptions. In 1984, the federal government relaxed regulations on the cable industry. A few years later, by 1989, customers had access to seventy-nine channels on most cable networks. Despite regulatory challenges regarding rising prices, satellite-based cable services expanded in 1992. Cable television offered many more programs by 1995, and by 1996, the number of cable TV subscribers had surpassed 65 million, with the number continuing to grow. In the late 1990s, the cable TV industry invested billions of dollars in developing coaxial cable networks.
AT&T entered the cable TV business in 1998. In the 2000s, companies began to offer full-service packages that included internet, phone, and TV. By the mid-2000s, cable companies were providing high-speed internet to compete with other internet service providers. Reports indicate that the growth of cable TV subscribers increased further during the 2000s. However, by 2013, the rate of cable television subscriptions had started to decline as some telephone service providers began offering television services.
Cable television programming
Besides knowing when was cable tv invented? we should know cable television programming.
Basic Cable
ocal broadcast television signals, subscribers must have a basic cable television service. The first basic cable network was TBS, which set the precedent for other major basic cable packages. These basic cable packages offer a variety of channels.
Premium cable
Premium cable is available in two formats. Presently, premium cable channels include HBO, Showtime (SHO), Starz, and others. For access to these channels, cable viewers must pay an additional fee on top of the basic cable service. Currently, there are many major broadcast networks, with HBO being the first to establish itself as a premium cable network.
Digital cable
In the cable industry, digital cable services provide many additional television channels. Digital cable converts the channels into digital signals, allowing for more television channels to be offered over the same bandwidth. In this process, cable providers convert analog signals to digital ones, often using digital compression. Digital cable channels typically offer higher quality pictures than analog channels. Subscribers who wish to access these channels usually require a special cable converter box.
First commercial system
The first commercial television system was developed in the United States in 1950 by Robert Tarlton. He organized a group of fellow retailers to relay distant television signals from Pennsylvania broadcast stations. The system gained popularity after being featured in a newspaper. For this system, Tarlton used equipment manufactured by Jerrold Electronics, which subsequently became well-known for producing equipment for the cable industry. Tarlton also assisted many cable operators with training.
Conclusion
This article provides a thorough understanding of cable TV, including when it was invented. It is truly helpful for learning about the history and evolution of cable TV, from its inception to its current state.
We love to share our knowledge on current technologies. Our motto is 'Do our best so that we can't blame ourselves for anything".