An apartment-size washing machine is a compact unit, smaller than a full-size washer. It typically features a top-load design and is portable, equipped with two hoses. One hose is clipped onto the sink's faucet with an included adapter, while the other is placed in the sink to drain the wash water. Standard washers are usually 24 inches wide and can range from 24 to 26 inches in depth and 33 to 36 inches in height. When using a laundry stacking kit, a stackable washer and dryer combo can reach up to 72 inches in height.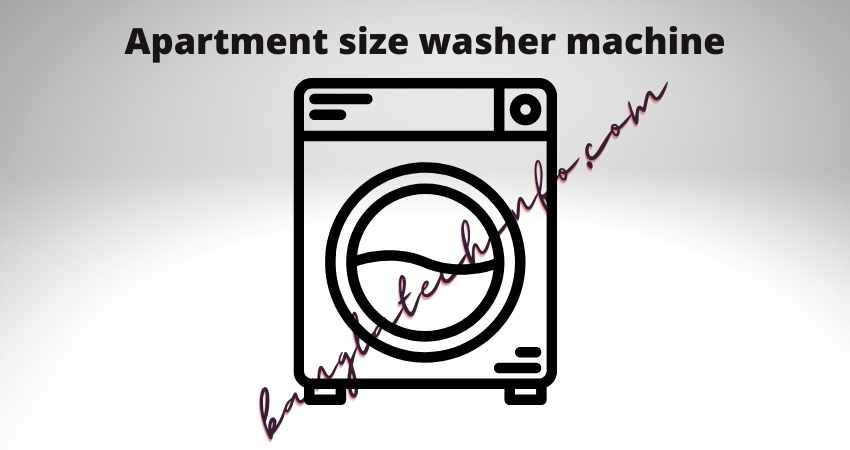 Why do we need an apartment-size washer machine?
We need an apartment-size washing machine in our apartment to manage our laundry efficiently without the need to go outside with laundry baskets. If our apartment doesn't come with a washer and dryer, we should consider installing these appliances. In cases where there isn't an existing washer connection, we could opt for a portable washing machine that operates on a standard 120-volt electrical outlet.
Which factors should we consider before buying?
For 1-2 people, we should opt for a small washing machine that can handle 12-14 pounds of laundry per load. A medium washing machine is suitable for 2-4 people and can manage 14-16 pounds of laundry. For households of five or more people, a large washing machine is ideal, as it can accommodate 20-25 pounds of laundry per load.
When we buy apartment-size washer machines we should consider the following things.
1. Measure the actual size of the space.
2. Vented or ventless option.
3. Stacked washer and dryer.
4. Stacked laundry center.
5. Compact washer dryer.
6. Portable laundry washer and portable dryer.
1. Measure the actual size of the space.
When space is a critical concern, we must measure the height, depth, and width of the space before purchasing a washer and dryer. For top-load washers, an additional 20 inches of space is necessary to open the lid comfortably. Conversely, front-load washers and dryers require sufficient clearance for the door to open fully. To ensure adequate air circulation, maintain at least 1 inch of space on either side of the washer and dryer. Additionally, allow for 6 inches of space behind the dryer for venting and hookups.
2.Vented or ventless option
Before purchasing, it's important to consider whether to opt for a vented or ventless dryer. A vented dryer expels humid air outside and typically features a larger drum, allowing clothes to dry more quickly. To function effectively, a vented dryer should be placed near a window or an exterior wall to properly vent air outside. Conversely, a ventless dryer, which recycles hot air within the unit, does not require a vent, offering more flexibility in placement. However, ventless dryers usually take longer to dry clothes, and without proper room ventilation, the excess heat and humidity could potentially lead to mold growth.
3. Stacked washer and dryer
Stacked washers and dryers indeed offer versatility and are an excellent choice for small spaces. They can be installed side by side if space permits, or stacked to maximize floor space. This configuration is especially beneficial in apartments, closets, and other areas where conserving space is a priority. When considering a stacked washer-dryer setup, ensure that both appliances are designed for this arrangement, as not all models are stackable. It's also important to verify that the location where they will be installed can support the weight and has the necessary electrical and water hookups.
4. Stacked laundry center
Yes, a laundry center is a single, tall unit that combines a top-loading washer on the bottom with a front-loading dryer on top. These are designed to fit into tighter spaces and provide the convenience of both a washer and dryer without requiring the space that individual units would. Since the two are attached, they are a more permanent solution compared to stackable washer and dryer sets, which can be separated if needed.
Laundry centers are a good choice for apartments, small homes, and places where space-saving is essential. They often have a smaller capacity compared to some full-size, standalone washers and dryers, but they make up for it by saving floor space and sometimes being more cost-effective. When selecting a laundry center, consider the capacity, the cycle options, efficiency, and whether the features match your laundry habits and needs.
5. Compact washer dryer
We should choose a compact washer and dryer because we get all the necessary facilities in a single unit. An all-in-one washer is also perfect for small spaces. It doesn't require separate washer or dryer hookups, only a 120-volt outlet and access to cold water. The cycle can take between three to six hours to complete.
6. Portable washing machines and portable dryers
We should opt for portable washing machines and portable dryers because they fit in small spaces and can be easily moved from one location to another. They feature a smaller drum size, which means they wash and dry a limited amount of clothes at a time. These machines are top-loading, similar to full-size models, and operate on electricity. Some models have venting options. Many can be connected to sinks or bathtubs, while others require a dedicated drain and water source.
How can we use an apartment washer?
We can use an apartment washer by the following steps.
1. At first we need to gather laundry.
2. We should connect the hose to the faucet or we need to pour water into the washer just below the line.
3. We should ensure that there are no leaks during the wash cycle. For this reason, we need to set the nozzle for draining in the tub or in a bucket.
4. We need to plug in the washer and set the time and wash cycle.
5. We should pour in detergent.
Not all washers require a proper hook-up. We can purchase a portable washer and dryer combo that only needs an electrical outlet and access to cold water for operation. An apartment-size washing machine can last for 10-13 years. To clean the machine, we can use bleach to eliminate odors, buildup, and the effects of hard water. Alternatively, vinegar is effective for removing excessive suds.
Where should we put the washer machine in the apartment?
When purchasing a washing machine, it needs to be placed in a suitable location. Here are some potential places to consider:
1.Under the washbasin counter.
2. In the shower stall.
3. Under the kitchen counter.
4. In the pantry.
5. Under an island.
6. On the landing.
7. Under the staircase.
8. In a wardrobe.
In a small space, the washer and dryer can be installed inside the kitchen or bathroom, or adjacent to one of these rooms, to facilitate plumbing connections. It is generally not allowed to install a washer and dryer in a bedroom closet.
Clothes should not be dried in poorly ventilated rooms during winter to avoid mold, fungus, and bacteria problems. Wet clothes can lead to condensation and mold issues.
Best apartment-size washer and dryer
In the market, there are numerous options for washing machines. It's advisable to select a compact washer-dryer combo for convenience and space-saving benefits. Below is a description of some high-quality laundry appliances.
Comfee portable washing machine
This is a fully automatic machine equipped with various programs and water levels, allowing for quick start-up and customizable washing programs based on load size. Energy-efficient, it boasts a powerful motor that helps conserve energy. Compact in design, this washing machine can be stored with ease. It also features a transparent lid, enabling easy monitoring of the washing process.
Panda washing machine and dryer
This model represents a compact laundry solution, ideal for small spaces. It features a stainless steel drum and offers a spin cycle option with a maximum spin speed of 840 rpm. As a fully automatic machine, it is user-friendly and operates efficiently. This excellent electric washer fits effortlessly into an apartment setting, perfect for small load capacities.
Helohom portable washing machine
This washer is excellent for small spaces, featuring an automatic spin dryer and larger capacity. Operating it is straightforward with its LED display, adjustable water levels, and temperature settings. It also boasts a time control function and an effective dry cycle with a drain pump. Installation is simple due to its easy water connection. Eco-friendly, it allows for energy and time savings. Additionally, its portability means it can be moved effortlessly from one location to another.
Conclusion
Apartment-size washers and dryers are compact appliances that are convenient for small spaces. Using them means not having to be concerned about fitting large machines in your home. Despite their smaller size, they offer similar functionalities to full-size washers. Their effectiveness is further enhanced when accompanied by helpful customer service and support. Hopefully, this article has provided useful insights into apartment-sized washing machines.
We love to share our knowledge on current technologies. Our motto is 'Do our best so that we can't blame ourselves for anything".