When dealing with limited space, one can opt for a large-capacity stackable washer and dryer. In today's market, there is a wide variety of washers available. However, it is crucial to consider the available space before making a purchase. If you lack a traditional laundry room or sufficient space for laundry, a large-capacity stackable washer and dryer might be a suitable choice. It's important to note that not all washers and dryers can be stacked; they must be specifically designed for stacking. Typically, a stackable washer-dryer combo will have a smaller capacity compared to standard side-by-side models.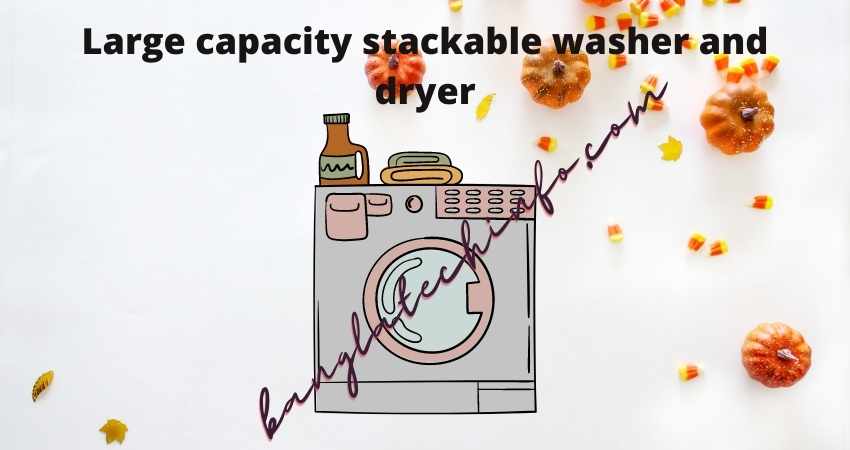 How can we buy a good large-capacity stackable washer and dryer?
When you're in the market for a high-quality large-capacity stackable washer and dryer, there are several factors to consider to ensure that you choose the best option for your needs:
Size
Stackable washers and dryers are essential for maximizing space efficiency. Before purchasing, it's important to measure your area to ensure the units will fit. Compact models are designed for smaller spaces and may offer fewer laundry loads, but they still provide thorough cleaning without the need to visit a laundry center.
Price
The cost is another crucial consideration. Stackable models tend to be more expensive, so it's important to select one within your budget. Front-loading stackable washers and dryers can be more cost-effective in the long run due to energy savings, whereas top-loading washers might be cheaper initially but more expensive to operate over time.
Compatibility
Compatibility is also key. You must consider the space and the required electrical and water hookups. If your space lacks these facilities, opt for a model that doesn't require special hookups. Hiring an electrician or plumber for installation may be necessary. Most homes have standard 120-volt outlets, but some front-loading washers and dryers may need a 240-volt connection. Alternatively, some compact washer-dryer combos are compatible with 120-volt outlets.
Energy Use
Energy efficiency is an important factor. Selecting Energy Star certified washers and dryers can lead to significant energy savings. Most stackable models are front-loading and tend to be more energy-efficient. Always check the Energy Star rating before purchasing. Gas dryers, although potentially more costly to install, can offer greater energy savings over time.
Durability
With numerous appliance brands on the market, choosing a durable stackable washer and dryer is crucial. Research customer reviews and warranty options before making a decision.
Configuration
Consider the configuration as well. Top-loading machines may be less expensive upfront, while front-loading machines offer greater energy efficiency and often a larger capacity, which can be beneficial in the long run.
Different types of stackable washers and dryers
In the realm of stackable washers and dryers, there are several types available. Below is a description of each.
Laundry Units
These are complete units that include a washer, dryer, and stacking kit in a single purchase. With everything bundled together, there's no need to stress about installation and compatibility. Setting up is straightforward, ensuring both units fit together seamlessly.
Front-Loading Washer and Dryer
Often, washers and dryers are purchased separately and later stacked. For such an arrangement, one should opt for front-loading models. Stacking these is generally worry-free as they are specifically designed for this purpose. If purchasing separate units, a stacking kit must be bought separately, and it's crucial to ensure the sizes of all three components match. With these, there's the flexibility to choose each appliance individually, taking advantage of energy-efficient models. However, assembling the parts may require more effort, and these units often need higher voltage outlets for operation.
Top quality brand
There are numerous brands in the market, and here's a brief overview of some top-quality brands:
LG
LG stands as a top-tier brand, consistently offering standard models that garner many positive reviews, especially for their laundry appliances. However, there are also complaints from users regarding product installation and performance. In particular, some concerns have been raised about the dryers, which occasionally fail to dry effectively. Considering the price, consumers expect greater durability.
Samsung
Samsung is another prominent brand, known for its popular models that function effectively and ensure quiet operation. Their stacking kits are notably easy to install. Despite these advantages, some users have voiced dissatisfaction with Samsung's customer service.
Whirlpool
Whirlpool products are widely available, with the brand known for producing intelligent washers. Customer feedback for Whirlpool is mixed; while some models receive high praise, others are criticized for issues such as noise, handling larger loads, and maintaining balance. On the upside, there are positive remarks about the machines' longevity and price points.
Summit
Summit is well-recognized for offering standard washers that are ideal for limited spaces. Their washing performance generally meets customer expectations without requiring extra space. Nonetheless, there are some grievances regarding the drying quality of their machines.
Best large capacity stackable washer and dryer
GE GFW850SPNRS with Bulk Dispenser
This washer features an ultra-fresh vent system with a door lock, designed for large loads. It effectively removes excess moisture to ensure the washer remains fresh and clean. Thanks to its Microban antimicrobial technology, it protects the gasket, dispenser, and drainage system. With smart dispensing technology, it can hold up to 32 loads of detergent and sanitizes fabrics, killing 99% of common bacteria and allergens.
It comes with built-in Wi-Fi capability, allowing for regular updates and the ability to monitor laundry loads from anywhere. Its dynamic balancing technology stabilizes uneven loads during spin cycles.
The reversible door offers flexible installation options, and the machine is known for its excellent wash quality. It features an accelerated wash cycle and deep water wash option, treating fabrics gently. The machine is user-friendly and efficient in operation.
LG Studio Single Unit Front Load Wash Tower
The LG WashTower boasts a larger capacity for efficient cleaning. Its standout control panel contributes to energy savings and sports an elegant design.
This stacked washer features a speed wash cycle and a stainless steel wash basket. Long wash times are a thing of the past with this model, as it provides quick wash options. Thanks to its super speed wash, it significantly reduces wash time while maintaining a large washer capacity.
Certified by the AAFA with Allergiene, it eliminates up to 95% of pet dander and dust.
This Energy Star stackable machine includes additional features such as fabric softener dispensers.
With its smart technology and key features, this machine adeptly controls moisture levels. LG Electronics offers compact machines that are both smart and feature-rich for the modern home.
Disadvantages of stackable washer and dryer units
When we have stackable washer and dryer units, we can enjoy many advantages. However, along with the benefits, we also encounter some issues. Sometimes, when washers and dryers are sold as pairs, one may perform better than the other. Washers might break down before dryers, or vice versa. To address these issues, some people choose to purchase washers and dryers separately.
Conclusion
When living in an apartment, we often may not have a large capacity for appliances. To solve this problem, we need a stackable washer and dryer that can maximize space. There are many options on the market, and it is advisable to select a compact model. Hopefully, this article will help us choose the best one.
We love to share our knowledge on current technologies. Our motto is 'Do our best so that we can't blame ourselves for anything".