Last Updated on June 14, 2022 by Admin
Currently, for wall-mounted tv, We should know how to measure a tv for a wall mount. This type of tv can be easily carried from one place to another place. We can also fit it on the wall easily. Wall mounted tv has holes in the back bracket. At the time of buying flat-screen TVs we should check for a VESA sign on them. Size does not matter for wall mounting. We should know what the tv weighs. It is essential to hold the tv weight. When we buy tv it is also essential to choose the right tv wall mount brackets so that they can hold the tv properly otherwise damage can happen.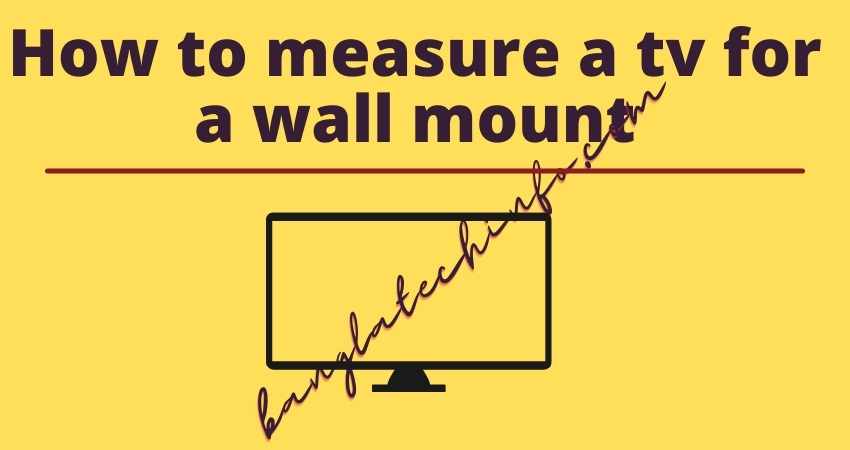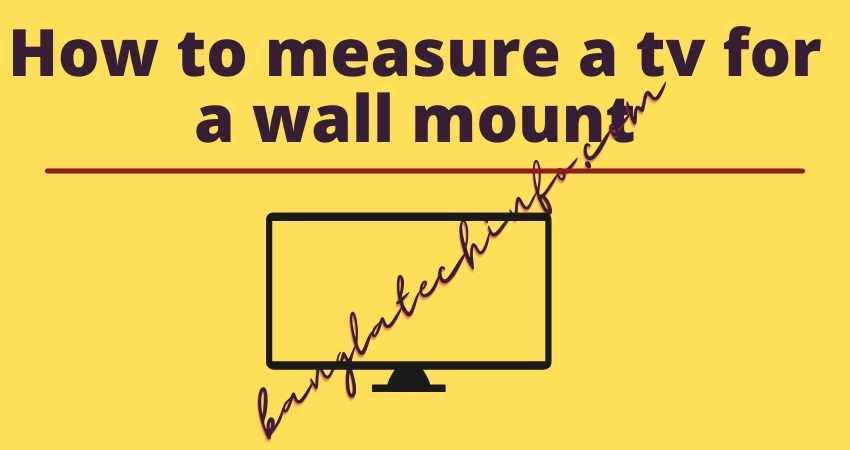 How we can measure a tv for a wall mount ?
We should know to measure a tv for a wall mount properly. It is not difficult to measure a tv for display. We can do it easily. In most cases, we need a few seconds. We need to locate the four holes in the back of our television. We need to measure from left to right and top to bottom. We should also know the horizontal and vertical distance between the holes. We also get the screen measurement from the manufacturer. As a result, we can get the actual height, width, and depth.
How Can we mount tv on a wall ?
To solve the problems of how to measure a tv for a wall mount It is essential for the TV brackets to fit the hole patterns on the back of the TV. When we buy tv we should see VESA size. According to VESA size, we can select the perfect size that we can easily mount on the wall. In case of fitting we should choose the same vesa number and same tv number. Some manufacturers can ignore this standard. In this case, they produce TV brackets as well as adjustable brackets that can fit any holes properly.
Different types of TV wall mounts
We can find different models. When we buy Tv wall mounts we need to consider flexibility, adjustability, and price.
1. Low profile Tv brackets
We can easily install these types of brackets. They are very cheap. We can easily hold big TVs by using them.
2. Tilting Tv brackets
We can install them easily. Comparatively, They are more expensive than low-profile tv brackets.
3. Full motion tv brackets
When we use it, it ensures great flexibility. In case of installation we face difficulties.
4. Ceiling tv brackets
We can use it when we don't have enough space. We can easily adjust the screen. They also help to move around the screen 360 degrees horizontally. Before buying we should check the weight of the TV and the specifications on the manual instructions of the brackets.
Description of the methods of how to measure a tv for a wall mount
We can take several methods to measure a tv. By following the methods we can solve the problem of how to measure a tv for a wall mount. We can follow the two methods
1. We can do it by finding tv dimensions.
2. We should make sure that the tv is appropriate for display space.
1. How to get the actual size
We need to measure the screen from corner to corner to confirm the advertised size. Tv models do not matter. To find the width we need to measure the horizontal distance from side to side by using a measuring tape. For getting the height we need to measure from the top to the bottom. We can also find the depth by measuring from front to back.
2. Perfect tv size for display space
We should know the actual area of the display space. We should measure the display space. As a result, we need to know the height and width of the area. We should also know the size of the cabinet and entertainment center. We know about the center height, center line distance, exact center, etc.
When we want to fit a tv in wall space we should allow 2-3 inches of room in display size. Space should be half a hand width larger than the actual size television.
We should select the ideal screen size so that we can see clearly from any kind of space. We need optimal viewing facilities. We should ensure an ideal viewing distance. Before buying we can use online viewing calculators so that we can get the perfect size screen.
We should also ensure the proper aspect ratio for the best picture. Without proper height and width, we can't enjoy the best display image.
Conclusion
Currently, tv is a great mass media. It has a great impact on our life. We get news, entertainment, and education from it. For ensuring the best watching experience we need to fit it properly. Hope this article will help us to know how to measure a tv for a wall mount so that we can choose the right tv for the right space.
We love to share our knowledge on current technologies. Our motto is 'Do our best so that we can't blame ourselves for anything".